TMZ is reporting heartbreaking news this afternoon that genius comic book creator Stan Lee has passed away.  He was 95.  We will have more on this and a Eulogy later this evening, but for right now all of us at World's Finest Geeks want to say R.I.P. to the master creator who created characters that have inspired us for our entire lives and will for decades going forward.
We'll miss you, Stan.  Excelsior.
UPDATE, 11-12-18, 10:05 PM EST:
Today, the world lost a true legend.
Stan "The Man" Lee was the co-creator of a world of fantasy unlike any other author out there.  A universe in which real heroes faced real-life problems, which was a far cry from the God-like behemoths that fellow hero-creator DC was responsible for, years prior.
This is truly a staggering loss for those of us here at World's Finest Geeks, but of course the world over.  Stan trended at the top of Twitter for the majority of the day since his death was announced.  I don't think I've ever seen any other death effect so many true believers outside of perhaps, Michael Jackson, back in 2009.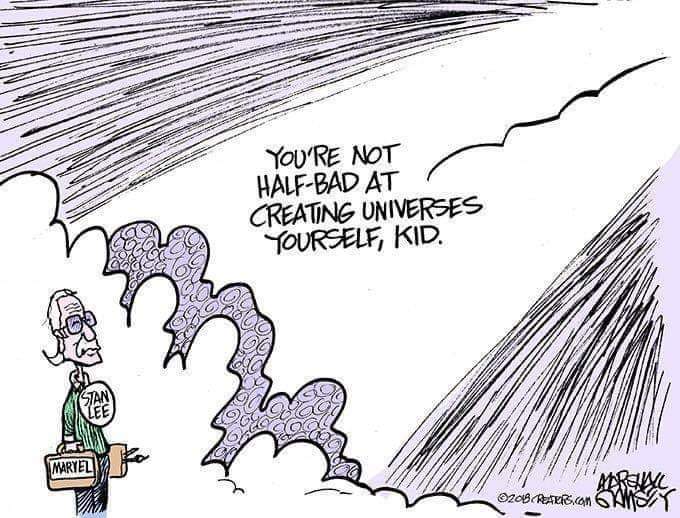 Here is a statement from WFG's own @MajorRon, who provided his first column for Veteran's Day just last night:
"Sad to hear of the death of Stan Lee at the age of 95.  He was the creator of a galaxy of Marvel comic book superheroes.  Some of his best were:  Spiderman, Iron Man, Hulk and Fantastic Four.  He redefined superheroes who had flaws and doubts.  Many of his characters had human personalities and problems.  Rest in Peace Stan!"
Many of Hollywood's elite, both involved and not involved in the Marvel Cinematic Universe, also tweeted out tributes to Stan, which we've compiled here.  But, I will start with the U.S. Army's tweet about him, in which they thank him for service during World War II:
Rest in peace, Soldier.

Comic book creator @TheRealStanLee has passed away at the age of 95. Lee served in the #USArmy Signal Corps during WWII from 1942-1945. We are deeply grateful for his service to our country and for his tremendous support to servicemembers. #Excelsior! pic.twitter.com/P9tdwoxxx2

— U.S. Army (@USArmy) November 12, 2018
Thanks for everything Stan Lee! What a life, so well lived. I consider myself extraordinarily lucky to have gotten to meet you and to have played in the world you created.
?♥️ pic.twitter.com/ryUjG7PL8D

— chris pratt (@prattprattpratt) November 12, 2018
There will never be another Stan Lee. For decades he provided both young and old with adventure, escape, comfort, confidence, inspiration, strength, friendship and joy. He exuded love and kindness and will leave an indelible mark on so, so, so many lives. Excelsior!!

— Chris Evans (@ChrisEvans) November 12, 2018
THANK YOU, @TheRealStanLee. You gave us characters that continue to stand the test of time and evolve with our consciousness. You taught us that there are no limits to our future as long as we have access to our imagination. Rest in power! #EXCELSIOR #StanLee #rip pic.twitter.com/hnSmnHIDln

— Winston Duke (@Winston_Duke) November 12, 2018
We've lost a creative genius. Stan Lee was a pioneering force in the superhero universe. I'm proud to have been a small part of his legacy and …. to have helped bring one of his characters to life. #StanLee #Wolverine pic.twitter.com/iOdefi7iYz

— Hugh Jackman (@RealHughJackman) November 12, 2018
Stan…more than a master of stories, you always seemed like a master of living. I will look to you for inspiration for the rest of my life. You live on. xoxo Your Wasp
.
#liveon #StanLee pic.twitter.com/JRA2aRM3bG

— Evangeline Lilly (@EvangelineLilly) November 12, 2018
Today we lost one of the greats. @TheRealStanLee, you were a inspiration and superhero to us all. Thank you for contributing so much- and giving us all something to aspire to! ?
#ripstanlee pic.twitter.com/GzFhwgU0WA

— Zoe Saldana (@zoesaldana) November 12, 2018
Thank you @TheRealStanLee for the escape from this world & great joy inhabiting the ones you created!! You made so many believe in the good, the heroic, the villainous, the exciting, most of all, you were giving & gracious to us all. RIP

— Samuel L. Jackson (@SamuelLJackson) November 12, 2018
Sad, sad day. Rest In Power, Uncle Stan. You have made the world a better place through the power of modern mythology and your love of this messy business of being human… pic.twitter.com/x6yZ6ClNSX

— Mark Ruffalo (@MarkRuffalo) November 12, 2018
Damn… RIP Stan. Thanks for everything. pic.twitter.com/TMAaDJSOhh

— Ryan Reynolds (@VancityReynolds) November 12, 2018
No one has had more of an impact on my career and everything we do at Marvel Studios than Stan Lee. Stan leaves an extraordinary legacy that will outlive us all. Our thoughts are with his daughter, his family, and his millions of fans. #ThankYouStan #Excelsior!

— Kevin Feige (@Kevfeige) November 12, 2018
Stan Lee was as extraordinary as the characters he created. A super hero in his own right to Marvel fans around the world, Stan had the power to inspire, to entertain, and to connect. The scale of his imagination was only exceeded by the size of his heart. .@TheRealStanLee pic.twitter.com/u2Dux0oGLu

— Robert Iger (@RobertIger) November 12, 2018
He changed the way we look at heroes, and modern comics will always bear his indelible mark. His infectious enthusiasm reminded us why we all fell in love with these stories in the first place. Excelsior, Stan.

— DC (@DCComics) November 12, 2018
"You know, I guess one person can make a difference" pic.twitter.com/aaY6RALtNz

— Topher Grace (@TopherGrace) November 12, 2018
His contribution to Pop Culture was revolutionary & cannot be overstated. He was everything you hoped he would be & MORE. I loved this man & will never stop missing him. They say you should never meet a childhood idol. They are wrong. #RIPStanTheMan pic.twitter.com/6OKH07ahJg

— Mark Hamill (@HamillHimself) November 12, 2018
At age 7, I drew this weird portrait of Stan Lee and asked my Mom to send it to him. Thankfully she didn't because 30+ years later, I got to give it to the great one in person. Thanks for all the fun Stan #Excelsior pic.twitter.com/IpfYBSjWyf

— Jimmy Kimmel (@jimmykimmel) November 12, 2018
RIP to one of the greatest creative minds of our time. Thank you for such an incredible legacy and for giving us so many icons that will continue to live on long after you are gone. Goodbye #stanlee – we love you. pic.twitter.com/nxwI1YS3OT

— Josh Gad (@joshgad) November 12, 2018
He lives forever through his work. What a giant.
With great power comes immortality. ??? pic.twitter.com/t395qw9H0L

— Lin-Manuel Miranda (@Lin_Manuel) November 12, 2018
Thank you Stan Lee. For your service in protecting our freedom and for your creativity and imagination! You were and will always be a SUPER HERO! pic.twitter.com/d1qpuImyzQ

— Jamie Lee Curtis (@jamieleecurtis) November 12, 2018
We met Stan when were were scrubs who snuck in to a party at comicon. He was as kind and encouraging then as he was when we met professionally years later. Thank you Stan for making us True Believers as kids and over and over again as adults.

— philip lord (@philiplord) November 12, 2018
Stan Lee. A gentleman and a genius. It was an honor to be a small part of his universe. Rest In Peace. pic.twitter.com/iZNtQRRqKD

— Kat Dennings (@OfficialKat) November 12, 2018
Rest in Peace Stan Lee

?

— Letitia Wright (@letitiawright) November 12, 2018
Thank you Stan Lee for making people who feel different realize they are special.

— Seth Rogen (@Sethrogen) November 12, 2018
RIP @TheRealStanLee He made everyone feel like a kid in his presence no matter what your age. pic.twitter.com/JYeWXq8iKb

— Jim Lee (@JimLee) November 12, 2018
https://twitter.com/genesimmons/status/1062056414992990208
"And now, until we meet again, may the blessings of Asgard be showered upon you!" – Stan Lee, Balder the Brave

Thank you for sharing your genius and your heart with the world, Stan. pic.twitter.com/uMjipTmyY6

— Geoff Johns (@geoffjohns) November 12, 2018
Farewell, my friend. You're not only responsible for the boy I was, but also the man I am today. I will miss you all my days. Read it all here: https://t.co/3ni6SLKhWW pic.twitter.com/6naCfXP7HO

— KevinSmith (@ThatKevinSmith) November 12, 2018
Stan Lee created a universe where, if a character was beloved enough, they could never really die.

Now THAT'S thinking ahead.

Thanks for so much of my life. You'll never not be in it.

— Joss Whedon (@joss) November 12, 2018
You were a man before your time… now it feels like you are gone before your time. RIP Stan the Man… thanks for the laughs and words of support. It's a honor to live in your universe! #MarvelKnight pic.twitter.com/1TXdPqUB3x

— Anthony Mackie (@AnthonyMackie) November 12, 2018